Evento "Let's Eatalian" a Riyadh
---
---
---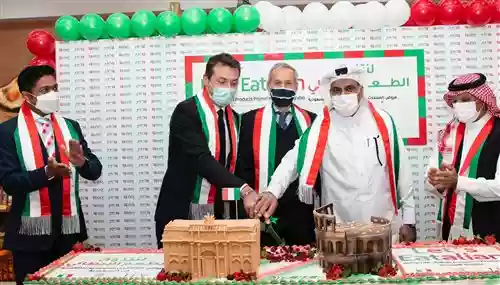 Italian Embassy deputy head of mission Valerio De Parolis inaugurated the "Let's Eatalian" food promotion at the LuLu Hypermarket in Atyaf Mall, Yarmouk, Riyadh. The inauguration was held in the presence of LuLu Hypermarkets Saudi Arabia director Shehim Mohammed, LuLu officials and management, and Italian trade commissioner Enrico Barbieri and other senior embassy officials.
The Italian food festival, supported by the Italian Embassy and the Italian Trade Agency, kicked off on Dec. 8 and will continue until Dec. 22.
------------------
Il vice capo missione dell'Ambasciata italiana in Arabia Saudita, Valerio De Parolis, ha inaugurato l'evento di promozione "Let's Eatalian" presso l'ipermercato LuLu di Atyaf Mall, Yarmouk, Riyadh. L'inaugurazione si è svolta alla presenza del direttore di LuLu Hypermarkets Arabia Saudita Shehim Mohammed, dei funzionari e della direzione di LuLu, del responsabile dell'Agenzia ICE Enrico Barbieri e di altri alti funzionari dell'ambasciata.
Il festival del cibo italiano, sostenuto dall'Ambasciata italiana e dall'Agenzia per il commercio italiano, è iniziato l'8 dicembre e proseguirà fino al 22 dicembre.
---